Hello friends, How are you all ? This week my work schedule was bit less and luckily I got time to give quick updates…..But sad that from monday onwards, new project will be on my head, so again I will be hanged into my busy schedule, so probably u guys need to wait so long…….Sorry in advance…..
Links for previous ones are here…..http://www.tellyupdates.com/shadow-spring-ishkara-ff-for-show-some-ishq-part-15/comment-page-1/#comment-6122697
Guys, pls read all parts and kindly drop your views when you gets time…….
@ Oberoi Enterprises 
Omkara arrives shivaay's cabin quickly and enquires what's the matter..
Shivaay : Om, I don't know what she wants now…Few hrs. before I got this invitation card and she said she will be here within few minutes..[shivaay handovers card to om]
Tej : Shivaay I am again striking the same point , it's a combined plan of ranas and that dutta to trap swethlana..
Shivaay : I don't think so…..Raanas are our business rivals, but Dutta……He has holds with underworld and he leads business in his own way……I mean around the chawls he is like a hero….And Dutta has never crossed our path , bade paapa…
Shakthi : What about that Basanvaadi plot ?? We hire it to start our company, but dutta bought that plot and he is not doing anything there……
Shivaay : Paapa, A blind school is there and our assistants didn't informed us abt this…….For our new venture, may be our men would have break that school and…
Tej : So what, shivaay, Don't forget that you are a business man….U use to repeat always…"Every relationship is a deal " We would have deal them by giving enough compensation….
Omkara : Compensation!!! You finds everything as so silly, won't you ??
Shivaay : Om, Pls……[shivaay touches om's shoulder] Pls Om……This is not the time to argue with bade paapa…..Pls…..
Rudra : Pls O……I am feeling tensed, why that swethlana has asked every one to assemble here ?? Is she going to play any new game with us ?
Shivaay : Whatever be the game, we will face it together…..Is that clear ?
[Omru nods their heads]
Tej : Shakthi, these guys are showing their brotherhood drama when we all need to be alert…….Damn, where is swethlana??…..
"I am here
, Mr.Tej Singh Oberoi…..
Tej : Mr. Tej Singh Oberoi !!! [ Tej and others turn back and gets surprised]
Swethlana : A letter for you….
Tej : Letter !!!
Swethlana : Read it and accept it soon….I have lot of work….
Tej reads the letter and gets shocked…..
Shivaay : What's that Bade paapa ?? [shivaay takes the letter and shivomru reads it and gets surprised]
Shivaay : Resignation!!!
Swethlana : Yeah, I am quitting the job of private secretary…….And soon I will be joining as the official business partner cum real life partner of Dutta Sreeram Patil….
Tej : Swethlana, what's wrong with you ?? Why are you doing this to me ?? [tej presses swethlana's shoulders in anger]
Swethlana : Aah!!! You are not supposed to touch me any more, Mr. Tej……I am going to become Mrs. Dutta, behave yourself……I am not your mistress…..
Tej takes his hands back and gets shocked…..
Tej : You are targeting me because I didn't accepted you before the whole world, won't you …….Swethlana , i already said that I have a status in this society and my family, business both goes equally …….If I will hold your hand at the public, then it would have…..[tej turns his face against swethlana]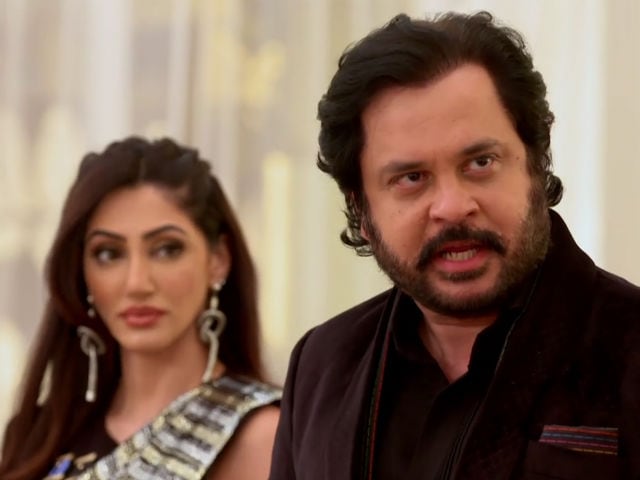 Swethlana : Adversely affected your business, the deals of crores and those hidden secrets which will reveal your mask, Won't you ?? How long I can bear this title of a slander, Tej ?? I am a woman an just like you, I am also bothered about my status…….And I don't want a black mark in my life by a betrayer like you…..
Tej : Betrayer!!! Me…..Swethlana, Today you have betrayed me, The biggest betrayer, I haven't find a cheap woman like you in my entire life……
Swethlana : Oh Really, Before blaming my character, Just look at yourself…..For the past 12 yrs, you are betraying your own wife by keeping an extra marital affair with me…..You are ruining her life by ill treating her….No one in your family will speak in favor of you…….One of your honest son doesn't needs you, as he understands his mother better than any one and he has the courage to defend you, while others are quiet because you are a part of their family, and they are just keeping the relationship only……Else they would have kicked you out from their family……
Tej : Swethlana !!! [Tej shouts and raise his hand to slap swethlana]
Omkara stops Tej by holding it and stares him…..
Tej : Omkara!!! You!!!
Omkara : Mr. Oberoi, I know that you have fallen  low……But i never expect that you will become so much low …….Behave yourself and give respect to women………..
[Swethlana gets surprised with om's act…]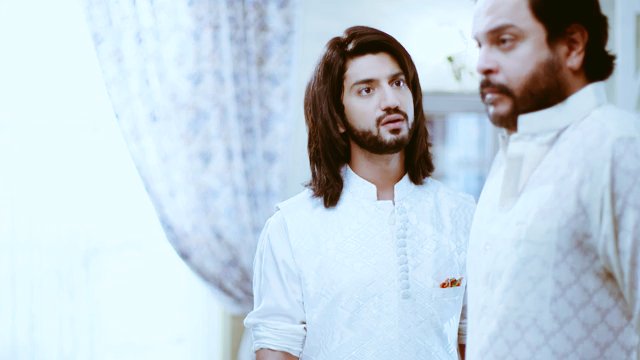 Omkara : You finds it as shocking , won't you ?? Mr. Oberoi, you know what today I am feeling a rare kind of happiness from heart because first time you have failed and truth has won…….Until now, you were cheating many people, you played with many lives and the master key of your game, swethlana has left the game in middle because you was playing with her life also…….Till now, I was feeling full and full of hatred for her because she was the home breaker and she has hurt my mom's emotions…… But today what she said is the bitter truth which I would have told you earlier, but I controlled myself as my family considers you as a member and my mom loves you deeply from heart even after you hurt her……..[om stares tej with wet eyes] Now you will start feeling regret over your sins, mr. oberoi……You will regret……
Om turns his face and breaks in tears…..he turns to leave…..
Rudy tries to stop Omkara.. Rudra : O, Pls ……Calm down…..
Omkara : Leave me alone……
Shivaay : Om pls my bhai….
Omkara : Pls shivaay, [om releases rudy's hand and walks aways]
Swethlana rusn behind om…..
Swethlana : Omkara!!!
Omkara : [omkara turns back and gives a shake hand to her] Congrats swethlana…. A small piece of advice for you, at least in this new turn of life, pls try to be honest….
Because if you this this wedding also as a game and moves on, then it will be an insult to your heart……A moment will arise in life when you will lose the game and there you will be isolated from every one and you won't be able to bear that immense pain……..It will be really bitter for you……Wish you a happy married life ahead……
PRECAP : WRESTLING WITH LIVES, HOW STRUGGLES WILL ACHIEVE IN THEIR PATHS ?? 
Sorry, guys , no ishkara scenes was there and i ended this one in lot of questions….Mmh…friends, lack of time…..so think abt it…..Keep reading and thanks for all the love…..